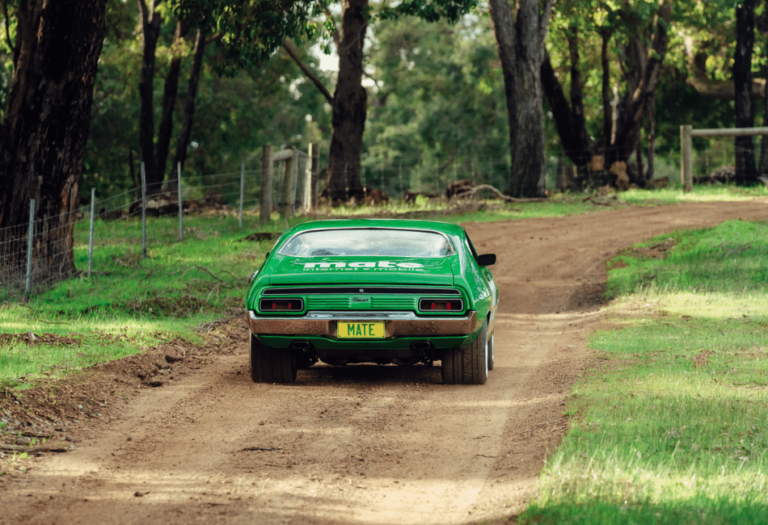 Selected locations have the choice to upgrade to nbn™️ Fibre to the Premises (FTTP) technology¹
You may be eligible for a better internet experience!


The benefits of Fibre to the Premises (FTTP)
What a fibre upgrade could mean for you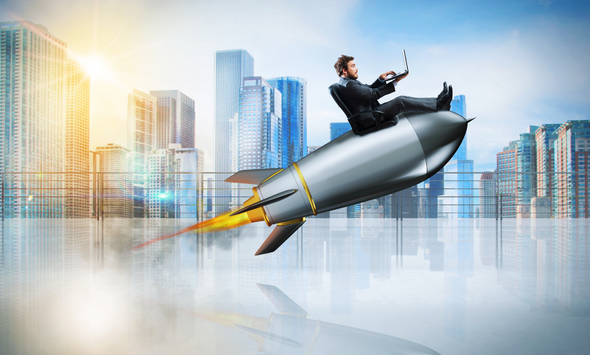 Faster, more reliable internet
The benefits of nbn™️ Fibre to the Premises (FTTP)
To help Australians enjoy faster and more reliable internet, nbn is extending fibre technology deeper into selected towns and suburbs.
Customers on Fibre to the Node (FTTN) or Fibre to the Curb (FTTC) technologies in selected areas may be eligible to upgrade to Fibre to the Premises (FTTP)¹ with MATE!
¹ Conditions and eligibility criteria will apply. Eligibility criteria includes among other things, being designated by nbn as a simple premises and placing an order for an nbn™️ powered plan based on an eligible wholesale speed tier.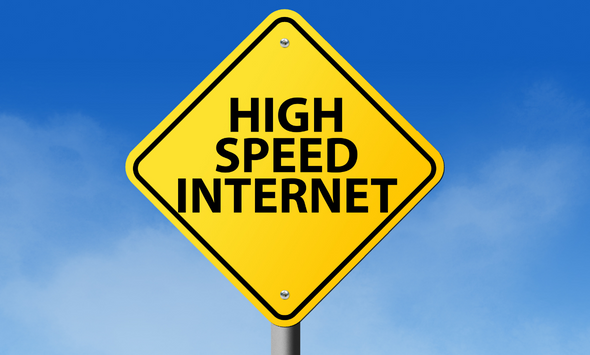 You may be eligible to upgrade
FTTP gives you access to high-speed internet plans
You may want to upgrade your nbn™️ technology to get access to higher-speed internet plans to help you support activities² like:
· Multiple people online at the same time
· Working from home and video calls
· Streaming high-definition video (4K)
· Playing online games
² Available nbn™ speed tiers vary depending on the access technology in a customer's area. Your experience, including the speeds actually achieved, depends on the nbn™  technology and other factors.
Find out if you can upgrade
Leave your details here and we'll be in touch!
The upgrade to nbn™️ Fibre to the Premises (FTTP) is only available to customers in selected areas. The eligible locations have been selected by nbn for reasons including demand, workforce availability and cost-effectiveness.
Drop us your details here and we'll check and let you know if you're eligible!
Frequently asked questions (FAQ)
Why is nbn making fibre available?
When nbn first rolled out its network, customers were not given a choice of the connection type; they received the internet technology available in their area.
Some addresses could get fibre direct to their home, but others could only get fibre near their property, with existing copper phone line wiring used the rest of the way.
The copper phone line wiring used for some existing nbn internet connections limits the ability to access faster internet speeds. These types of connections use older technology and are more susceptible to damage or deterioration, weather events and other things outside your control.
An upgrade to FTTP, if available, will provide you with a more reliable connection and open the door to high-speed internet plans.
Will it cost anything to upgrade?
Eligible customers will have to place an order with MATE and select an eligible speed plan to upgrade to nbn™️ FTTP.
For locations on nbn™️ Fibre to the Node (FTTN): If you are eligible and you would like to upgrade to nbn™️ FTTP, you will need to order the No Worries nbn 100/20 plan or higher with MATE.
For locations on nbn™️ Fibre to the Curb (FTTC): If you are eligible and you would like to upgrade to nbn™ FTTP, you will need to order the Fair Dinkum nbn 250/25 plan with MATE.
How are eligible locations chosen?
The eligible locations for a fibre upgrade have been selected by nbn for reasons including:
Demand – nbn anticipates strong demand in these metropolitan and regional locations for higher speed plans.
Workforce – nbn's established construction and delivery partners, and their respective workforces, are ready to work here having recently completed the network's initial build.
Cost-effectiveness – nbn can deploy at these locations with speed and agility, in a way that their investment is most likely to spread and multiply economic activity across Australia.
nbn's overall aim is to extend fibre to an additional 3.5 million homes and businesses by the end of 2023.
How does Fibre to the Premises (FTTP) work?
If I am eligible, what is involved in connecting the fibre?
Additional work will be required to install new nbn equipment inside and outside your home to complete the upgrade. If you're eligible and you choose to opt-in to upgrade, MATE will book all necessary appointments with an nbn approved technician.
nbn will schedule a physical installation appointment and before this appointment is completed, will also book a pre-installation visit.
What is involved in the pre-installation visit?
To prepare for your installation appointment, an nbn technician will visit your location to conduct an initial assessment of the outside of your home. nbn will contact you directly to let you know the timeframe for this, but you do NOT need to be home.
This visit will help nbn identify any obstacles early and prepare for your installation appointment. In most cases, the pre-installation visit will take, on average, between 45 mins to 1.5 hours.
Activities performed by the technician in this pre-installation visit may include:
A review of the external nbn infrastructure on the street and civil works
Non-invasive construction activities
What is involved in the installation appointment?
An nbn technician will arrive at a later time/date to install the required nbn equipment at your premises. You, or an authorised person over the age of 18, MUST be home for this appointment.
In most cases, this visit will take between 3 to 4 hours. Please note it could take longer for complex connections. The technician will test that the nbn equipment has been installed correctly before they leave.
Activities performed by the technician in this installation appointment will include:
Installation of the nbn fibre lead-in along with the nbn utility box and the drop cable (if it wasn't installed during the pre-installation visit)
Installation of the nbn connection box (inside or outside) and a Power Supply Unit (inside) your premises. The technician will advise on the best location to install this equipment.
Testing of the nbn FTTP service to the nbn connection box so that it's ready to activate
Will a fibre installation affect my existing connection?
The nbn™️ technician will install your new Fibre to the Premises (FTTP) connection in parallel to your existing connection.
As nbn™️ will be working with a live network, there may be temporary service interruptions during the pre-installation visit and installation appointment.
Once your new FTTP service is up and running, your current connection will be disconnected by MATE within five (5) days.
What equipment will be installed if I upgrade?
The nbn equipment that will be installed both inside and outside your premises will include:
The nbn utility box (also known as the Premises Connection Device or PCD) on the outside of the premises
The nbn connection box (also known as the Network Termination Device or NTD) on the inside or outside of the premises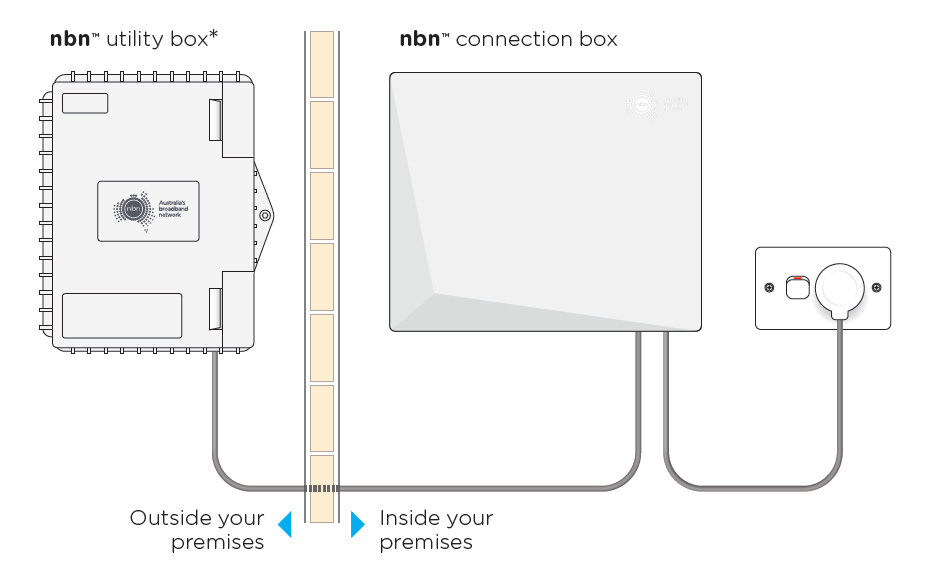 Can I choose where the equipment is installed?
The nbn technician will advise where the best location is to install the nbn connection box.
In most cases, the nbn connection box needs to be installed:
Reasonably close to a power point
Near the nbn utility box (outside your home) to allow easy access – this means usually near the front of the property
Away from busy areas where it may be knocked or damaged
A cool, dry, ventilated area (nbn equipment cannot be installed in a damp or wet area such as a kitchen, bathroom, laundry, or under a window that opens, and away from existing utilities such as gas lines or external water systems)
Somewhere where blinking lights won't be distracting, but easy for you to see and check the indicator lights
In the same building as the main electric meter box or distribution board (i.e. not in a separate detached garage or outhouse)
Each property can be different and you can discuss what your options are with the nbn technician on the day of your installation appointment.
While the nbn technician will try to accommodate your choice of location, some environmental factors such as complex walls, distance to power sources and proximity and accessibility to the exterior utility box will influence and inform the location.
It may not be possible to install the nbn connect box for nbn FTTP in the same location as where your original nbn technology connection points are.
Do I need a new modem/router when I upgrade?
If your current modem/router was supplied by MATE, it will be compatible and can be used with your new FTTP connection.
If you supplied your own modem/router (BYO), in the majority of cases your device will work with FTTP but we can't guarantee this in all cases.
You will need to update the settings in your modem/router once your new FTTP connection has been activated, but we'll provide these to you by email once an installation appointment has been issued and then again once your FTTP connection becomes active.
If you're not sure whether your current modem/router will work when your upgrade to FTTP is completed, we recommend that you contact our support team. You can also find a list of compatible modem/routers for FTTP here.
Do I need an nbn upgrade to FTTP if I have Hybrid Fibre Coaxial (HFC)?
While an HFC connection may not offer the same level of performance or reliability as an nbn fibre connection like Fibre-to-the-Premises, it is more affordable and superior to FTTN and FTTC connections. HFC can still provide internet speeds comparable to FTTP—a superior nbn connection—depending on the provider.
An ACCC study has shown that HFC connections perform almost as well as FTTP connections. Some HFC premises can enjoy superfast nbn speeds of over 200Mbps during peak hours while others are able to access ultrafast typical evening speeds of around 600Mbps.
As such, an FTTP upgrade might not be necessary if you have an HFC connection.
Which suburbs and towns in New South Wales are eligible for an nbn FTTP upgrade?
Aberglasslyn, Adamstown, Adamstown Heights, Airds, Albion Park, Albury, Alexandria, Allambie Heights, Ashmont, Austinmer, Avalon Beach, Avoca Beach, Balgownie, Bangalee, Bankstown, Bar Beach, Barrack Heights, Barrack Point, Batemans Bay, Bathurst, Batehaven, Baulkham Hills, Beachmere, Beacon Hill, Beaumont Hills, Beecroft, Belfield, Bella Vista, Belmont, Belmont North, Beresfield, Berowra, Berowra Heights, Berrilee, Bilgola Plateau, Blackbutt, Blackheath, Blayney, Blue Haven, Bogangar, Bolwarra Heights, Bonnells Bay, Booragul, Bowral, Bowraville, Bradbury, Broadmeadow, Brookvale, Budgewoi, Buff Point, Bundanoon, Bungendore, Byron Bay, Cabarita Beach, Calala, Callala Bay, Callala Beach, Cameron Park, Campbelltown, Canley Vale, Cardiff, Cardiff South, Carramar, Casino, Castle Hill, Catalina, Caves Beach, Cessnock, Charlestown, Charmhaven, Cherrybrook, Chinderah, Chipping Norton, Claymore, Clyde, Coledale, Collaroy, Cooks Hill, Cordeaux Heights, Corlette, Corowa, Cowra, Croydon, Croydon Park, Cringila, Cronulla, Crosslands, Culburra Beach, Dalmeny, Darlinghurst, Davistown, Dee Why, Denhams Beach, Deniliquin, Double Bay, Dubbo, East Albury, East Ballina, East Tamworth, Eden, Edgeworth, Elderslie, Eleebana, Elermore Vale, Erina, Erskineville, Ettalong Beach, Epping, Fairy Meadow, Fingal Bay, Fingal Head, Figtree, Flinders, Forbes, Forster, Gerringong, Gerroa, Gilgandra, Gladesville, Glen Innes, Glenfield Park, Glenhaven, Glenmore Park, Glenroy, Gorokan, Goulburn, Grafton, Granville, Green Valley, Griffith, Gulgong, Gunnedah, Gwynneville, Halekulani, Hamilton, Hamilton South, Hamlyn Terrace, Harrington, Haywards Bay, Helensburgh, Hillvue, Hinchinbrook, Holmesville, Holsworthy, Homebush West, Horningsea, Hoxton Park, Hunterview, Hunters Hill, Huntleys Cove, Islington, Jamisontown, Jerrabomberra, Jindabyne, Kanwal, Kariong, Katoomba, Keiraville, Kelso, Kellyville, Kensington, Killingworth, Kincumber, Kings Langley, Kingscliff, Kingsford, Kingswood, Kirrawee, Kooringal, Kotara, Kurri Kurri, Kurnell, Lake Illawarra, Lake Munmorah, Lakelands, Lambton, Laurieton, Lavington, Leura, Lennox Head, Leumeah, Leura, Lilli Pilli, Lisarow, Lithgow, Liverpool, Long Beach, Macksville, Macquarie Hills, Maianbar, Maitland, Maloneys Beach, Mannering Park, Mardi, Marmong Point, Maryland, Maryville, Matraville, Medowie, Melrose Park, Merewether, Merewether Heights, Merimbula, Middleton Grange, Milton, Mitchell, Mittagong, Mollymook, Mollymook Beach, Montefiores, Moree, Moss Vale, Mount Annan, Mount Austin, Mount Hutton, Mount Kembla, Mount Pleasant, Mount Warrigal, Mudgee, Murwillumbah, Nambucca Heads, Narellan, Narara, Narrabri, Narrandera, Narrawallee, Nelson Bay, New Lambton, Niagara Park, Norah Head, Noraville, North Albury, North Batemans Bay, North Kellyville, North Lambton, North Manly, North Nowra, North Richmond, North Tamworth, North Wollongong, Norwest, Nowra, Oak Flats, Old Bar, Old Erowal Bay, Orange, Ourimbah, Oxley Vale, Parklea, Parramatta, Picton, Pleasure Point, Port Kembla, Port Macquarie, Prestons, Primbee, Quakers Hill, Raymond Terrace, Rhodes, Rozelle, Ruse, Rutherford, Salamander Bay, San Remo, Sanctuary Point, Saratoga, Scone, Seven Hills, Shell Cove, Shellharbour, Shoal Bay, Shoalhaven Heads, Shortland, Singleton, Singleton Heights, Skennars Head, Smithfield, Soldiers Point, South Albury, South Bathurst, South Grafton, South Nowra, South Tamworth, South Turramurra, South West Rocks, Speers Point, Spring Farm, St Albans, St Clair, St Georges Basin, St Helens Park, Stockton, Suffolk Park, Sunshine Bay, Surf Beach, Surfside, Surry Hills, Sussex Inlet, Swansea, Tahmoor, Tarro, Telarah, Terranora, Terrigal, Thirlmere, Thirroul, Thornton, Thurgoona, Tuggerah, Tuggerawong, Tumut, Tuncurry, Tweed Heads, Tweed Heads South, Tweed Heads West, Ulladulla, Umina Beach, Valentine, Villawood, Vincentia, Voyager Point, Wadalba, Wagga Wagga, Waitara, Wallabi Point, Wallsend, Wangi Wangi, Warners Bay, Warrawong, Waratah, Watanobbi, Wauchope, Wattle Grove, Wentworth Falls, West Albury, West Bathurst, West Hoxton, West Kempsey, West Pennant Hills, West Tamworth, West Wallsend, West Wyalong, Wetherill Park, Whitebridge, Windale, Windradyne, Wollongbar, Wollstonecraft, Wombarra, Woodbine, Woodcroft, Woodlands, Woolwich, Woronora Heights, Worrigee, Woy Woy, Wyee, Wyoming, Wyong, Wyongah, Yamba, Yass, Yattalunga, Young
Which suburbs and towns in Victoria are eligible for an nbn FTTP upgrade?
Aireys Inlet, Albert Park, Alfredton, Anglesea, Apollo Bay, Attwood, Bairnsdale, Ballan, Baranduda, Barwon Heads, Bayswater, Bayswater North, Beaconsfield Upper, Bell Park, Bell Post Hill, Belmont, Benalla, Bendigo, Berwick, Berwick South, Blind Bight, Botanic Ridge, Braybrook, Bright, Broadford, Burnside Heights, Cairnlea, Camperdown, Cannons Creek, Cape Paterson, Cape Woolamai, Capel Sound, Caroline Springs, Castlemaine, Clifton Springs, Cobram, Cohuna, Colac, Connewarre, Corio, Cowes, Cranbourne, Cranbourne North, Craigieburn, Crib Point, Dalyston, Daylesford, Deer Park, Delahey, Delacombe, Derrimut, Diamond Creek, Dromana, Drouin, Drysdale, East Bairnsdale, East Bendigo, Eastwood, Echuca, Eltham, Fairhaven, Flora Hill, Geelong, Geelong West, Gisborne, Golden Square, Grovedale, Hamilton, Hamlyn Heights, Hampton Park, Hastings, Healesville, Heathcote Junction, Herne Hill, Highett, Highton, Horsham, Hurstbridge,Indented Head, Inverloch, Jan Juc, Kangaroo Flat, Kalimna, Kennington, Keysborough, Kialla, Kilmore, Koo Wee Rup, Kyabram, Lake Gardens, Lake Wendouree, Lakes Entrance, Lang Lang, Launching Place, Lara, Leneva, Leongatha, Leopold, Loch Sport, Long Gully, Lovely Banks, Lucknow, Lyndhurst, Lynbrook, Manifold Heights, Mernda, Mildura, Moe, Mornington, Morwell, Mount Martha, Narre Warren, Narre Warren North, Newcomb, Newtown, Norlane, North Bendigo, North Melbourne, North Shore, North Wonthaggi, Ocean Grove, Pakenham, Pearcedale, Point Lonsdale, Port Fairy, Portarlington, Portland, Portsea, Queenscliff, Quarry Hill, Redan, Research, Rhyll, Riddells Creek, Rockbank, Romsey, Rosebud, Rowville, Roxburgh Park, Rye, Safety Beach, Sale, Seville, Seville East, Silverleaves, Smiths Beach, Somers, Somerville, Sorrento, South Dudley, South Geelong, South Morang, Spring Gully, St Albans Park, St Leonards, Strathdale, Strathfieldsaye, Sunbury, Sunderland Bay, Sunset Strip, Sunshine, Sunshine North, Sunshine West, Surf Beach, Swan Hill, Sydenham, Tarneit, Tooradin, Tootgarook, Torquay, Trafalgar, Traralgon, Traralgon East, Tyabb, Venus Bay, Wallan, Wandana Heights, Wandong, Wangaratta, Warburton, Warneet, Warragul, Warrnambool, Wendouree, West Wodonga, Whittlesea, Wimbledon Heights, Wodonga, Wonthaggi, Woori Yallock, Wy Yung, Yarra Junction, Yarragon, Yarram, Yarrawonga
Which suburbs and towns in Queensland are eligible for an nbn FTTP upgrade?
Acacia Ridge, Agnes Water, Airlie Beach, Albany Creek, Alexandra Headland, Allenstown, Andergrove, Arana Hills, Aroona, Ashgrove, Atherton, Avenell Heights, Ayr, Bahrs Scrub, Bald Hills, Banksia Beach, Barlows Hill, Bargara, Bayview Heights, Beaconsfield, Beaudesert, Beerwah, Bellara, Bellbowrie, Belvedere, Bentley Park, Berserker, Bilinga, Birtinya, Black River, Blacks Beach, Blackwater, Bongaree, Bonogin, Bowen, Boyne Island, Bracken Ridge, Bray Park, Brendale, Brinsmead, Buderim, Buddina, Bulimba, Bundaberg Central, Bundaberg East, Bundaberg North, Bundaberg South, Bundaberg West, Burleigh Heads, Burleigh Waters, Burpengary, Burpengary East, Bucasia, Caboolture, Caboolture South, Caloundra, Caloundra West, Camira, Cannon Hill, Cannonvale, Capalaba, Carindale, Carseldine, Cashmere, Castaways Beach, Chinchilla, Clifton Beach, Clermont, Clinton, Clontarf, Collingwood Park, Condon, Coolangatta, Coolum Beach, Cooroibah, Cooroy, Cooya Beach, Cornubia, Craiglie, Crestmead, Currimundi, Currumbin Waters, Dalby, Darling Heights, Darra, Deception Bay, Deeragun, Dicky Beach, Diddillibah, Dolphin Heads, Doolandella, Drayton, Dundowran Beach, Durack, Dysart, Earville, Eatons Hill, Eimeo, Eight Mile Plains, Emerald, Edmonton, Everton Hills, Ferny Hills, Flagstone, Forest Lake, Frenchville, Freshwater, Gatton, Gilston, Gladstone Central, Glass House Mountains, Gleneagle, Glenella, Glenvale, Goondi Bend, Gordonvale, Gracemere, Greenbank, Griffin, Gympie, Harristown, Heathwood, Highfields, Highland Park, Holloways Beach, Ingham, Innisfail, Jacobs Well, Jensen, Jimboomba, Jones Hill, Jubilee Pocket, Kawana, Kawungan, Kearneys Spring, Kedron, Kelso, Kenmore, Kepnock, Kewarra Beach, Kin Kora, Kingaroy, Kings Beach, Koongal, Kuluin, Labrador, Laidley, Landsborough, Lawnton, Leichhardt, Little Mountain, Logan Reserve, Logan Village, Loganholme, Lowood, Machans Beach, Main Beach, Maleny, Manunda, Mareeba, Marian, Marcoola, Marcus Beach, Maroochydore, Maryborough, Meridan Plains, Millbank, Minyama, Mirani, Moffat Beach, Monoora, Mooloolaba, Mooroobool, Moranbah, Morayfield, Mossman, Mount Coolum, Mount Cotton, Mount Pleasant, Mount Sheridan, Mount Warren Park, Mountain Creek, Mudgeeraba, Murrumba Downs, Nambour, Narangba, Newtown, Noosa Heads, Noosaville, Norman Gardens, North Ipswich, North Lakes, North Mackay, Norville, Oakey, Ormeau, Oxenford, Oxley, Pacific Paradise, Pacific Pines, Palmwoods, Parrearra, Peregian Beach, Peregian Springs, Petrie, Pialba, Pimpama, Pine Mountain, Point Vernon, Port Douglas, Proserpine, Rainbow Beach, Rasmussen, Redbank, Redlynch, Reedy Creek, Robina, Robertson, Rockhampton City, Rockville, Roma, Rosewood, Rosslyn, Rothwell, Rowes Bay, Rural View, Sarina, Scarness, Seventeen Mile Rocks, Shelly Beach, Slacks Creek, Slade Point, Smithfield, South Gladstone, South Toowoomba, Southport, Southside, Springfield, Steiglitz, Stratford, Strathpine, Sunrise Beach, Sunshine Beach, Svensson Heights, Tannum Sands, Tewantin, Thabeban, The Gap, The Range, Tin Can Bay, Torquay, Trinity Beach, Trinity Park, Tully, Twin Waters, Upper Caboolture, Upper Coomera, Urangan, Urraween, Varsity Lakes, Victoria Point, Wakerley, Walkerston, Walkervale, Wandal, Wangan, Warner, Warwick, Waterford, White Rock, Whitfield, Windaroo, Wondunna, Woodgate, Woree, Worongary, Wurtulla, Wilsonton, Wilsonton Heights, Wulguru, Yamanto, Yaroomba, Yeppoon, Zilzie
Which suburbs and towns in South Australia are eligible for an nbn FTTP upgrade?
Aberfoyle Park, Adelaide, Albert Park, Angle Vale, Ascot Park, Athol Park, Balaklava, Beaumont, Belair, Bellevue Heights, Beverley, Blackwood, Blair Athol, Blakeview, Bowden, Bridgewater, Brooklyn Park, Burton, Cheltenham, Christie Downs, Christies Beach, Clare, Clearview, Clovelly Park, Coromandel Valley, Craigmore, Davoren Park, Dudley Park, Edwardstown, Elizabeth, Elizabeth Downs, Elizabeth North, Elizabeth South, Enfield, Ethelton, Evanston Park, Exeter, Findon, Flagstaff Hill, Gawler South, Gepps Cross, Glanville, Golden Grove, Goolwa, Goolwa Beach, Grange, Greenwith, Gulfview Heights, Hackham, Hackham West, Hahndorf, Hallett Cove, Happy Valley, Hawthorn, Hawthorndene, Hazelwood Park, Huntfield Heights, Kilburn, Largs Bay, Largs North, Linden Park, Littlehampton, Marion, Mawson Lakes, Mitchell Park, Moonta Bay, Morphett Vale, Morphettville, Mount Barker, Mount Gambier, Munno Para, Munno Park West, Myrtle Bank, Nairne, Noarlunga Downs, North Haven, Northfield, O'Halloran Hill, Old Reynella, Osborne, Ottoway, Para Hills West, Parafield Gardens, Pasadena, Penfield, Pennington, Plympton Park, Pooraka, Port Adelaide, Port Lincoln, Port Noarlunga, Queenstown, Renmark, Renown Park, Reynella, Reynella East, Risdon Park, Rosewater, Roxby Downs, Royal Park, Salisbury, Salisbury Heights, Seaton, Semaphore, Semaphore Park, Semaphore South, Sheidow Park, Smithfield Plains, South Plympton, St Marys, Tanunda, Taperoo, Tennyson, Walkley Heights, West Lakes, West Lakes Shore, Willaston, Wingfield, Woodcroft, Woodville North, Woodville Park, Woodville South, Woodville West
Which suburbs and towns in Western Australia are eligible for an nbn FTTP upgrade?
Albany, Alexander Heights, Alfred Cove, Armadale, Ascot, Ashfield, Attadale, Australind, Aveley, Baldivis, Balcatta, Balga, Banjup, Bassendean, Bayswater, Beaconsfield, Beckenham, Bedford, Beechboro, Beeliar, Belmont, Bennett Springs, Bentley, Bertram, Bibra Lake, Bicton, Boulder, Broadwater, Bunbury, Burns Beach, Busselton, Byford, Canning Vale, Cannington, Camillo, Carey Park, Caversham, City Beach, Clarkson, Cloverdale, Coogee, Collie, Coolbellup, Cooloongup, Currambine, Dalyellup, Dawesville, Denmark, Doubleview, Duncraig, Dunsborough, East Bunbury, East Cannington, East Fremantle, Eaton, Eden Hill, Ellenbrook, Embleton, Falcon, Ferndale, Forrestdale, Forrestfield, Fremantle, Geographe, Girrawheen, Glen Iris, Glendalough, Gosnells, Greenwood, Gwelup, Halls Head, Hamersley, Hamilton Hill, Hammond Park, High Wycombe, Highgate, Hillman, Hilton, Hocking, Huntingdale, Iluka, Innaloo, Jandakot, Jandakot South, Jane Brook, Joondalup, Kalamunda, Kalgoorlie, Kardinya, Karawara, Karrinyup, Kewdale, Kiara, Kinross, Koondoola, Lake Coogee, Lakelands, Langford, Landsdale, Leschenault, Lesmurdie, Lockridge, Lynwood, Maida Vale, Madeley, Malaga, Manjimup, Marangaroo, Margaret River, Marmion, Martin, Maylands, McKail, Melville, Menora, Merriwa, Middle Swan, Midland, Midvale, Mindarie, Mira Mar, Morley, Mount Claremont, Mount Lawley, Mount Nasura, Myaree, Nollamara, North Beach, North Fremantle, North Perth, Northam, O'Connor, Orana, Orelia, Osborne Park, Palmyra, Parkwood, Parmelia, Piara Waters, Port Denison, Quinns Rocks, Redcliffe, Riverton, Rivervale, Rockingham, Roleystone, Rossmoyne, Safety Bay, Samson, Scarborough, Secret Harbour, Seville Grove, Shelley, Shoalwater, Sorrento, South Bunbury, South Fremantle, South Kalgoorlie, Southern River, Spencer Park, Spearwood, St James, Stirling, Success, Swan View, Tapping, The Vines, Thornlie, Tuart Hill, Two Rocks, Waikiki, Wannanup, Wanneroo, Warnbro, Waroona, Waterford, Wellard, Wembley Downs, West Busselton, West Lakes, Westminster, White Gum Valley, Willagee, Willetton, Wilson, Withers, Woodlands, Yakamia, Yanchep, Yokine
Which suburbs and towns in Tasmania are eligible for an nbn FTTP upgrade?
Berriedale, Brighton, Burnie, Camdale, Chigwell, Claremont, Cooee, Devonport, Evandale, Grindelwald, Hawley Beach, Howrah, Huonville, Latrobe, Legana, Longford, Margate, New Norfolk, Ocean Vista, Park Grove, Parklands, Penguin, Perth, Port Sorell, Sandy Bay, Scamander, Shearwater, Shorewell Park, Tranmere, Ulverstone, West Ulverstone, West Ulverston
Which suburbs and towns in Northern Territory are eligible for an nbn FTTP upgrade?
Alice Springs, Araluen, Braitling, Ciccone, Desert Springs, East Side, Gillen, Ilpara, Larapinta, Mount Johns, Ross, Sadadeen, The Gap
Which suburbs and towns in Australian Capital Territory are eligible for an nbn FTTP upgrade?
Ainslie, Banks, Braddon, Campbell, Casey, Charnwood, Conder, Dickson, Dunlop, Gordon, Hume, Kingston, Lyneham, Macgregor, Monash, O'Connor, Reid, Turner, Yarralumla
Why wait? Make the switch to MATE!
Mate are the only company that actually found my NBN connection. Literally every other provider could not find my property listing on the NBN database. They are compassionate to an individuals circumstance.
Jai N.

Great team at MATE! Honestly whenever I have a problem they fix asap. Just spoke to a gentlemen by the name of Luca, he was a legend. Was very patient and did all he can do to assist with the outage.
Hayssam

Was so easy to install and the internet is a blessing. Before it was dropping out every 10 minutes, we have had 2 dropouts now each for about a minute. The service they provide is excellent.
Norma

Love Mate !!! The guys are fantastic to deal with … it's great to talk to an Aussie team !!! Kevin was so patient in helping me set up my internet and stayed online to ensure everything was working well.
Anne

I moved our NBN and mobile's to Mate. The process was easy and seamless, would definitely recommend Mate. And the rates are great. Thanks very much for this service Mate.
Philip

More about the nbn™️ network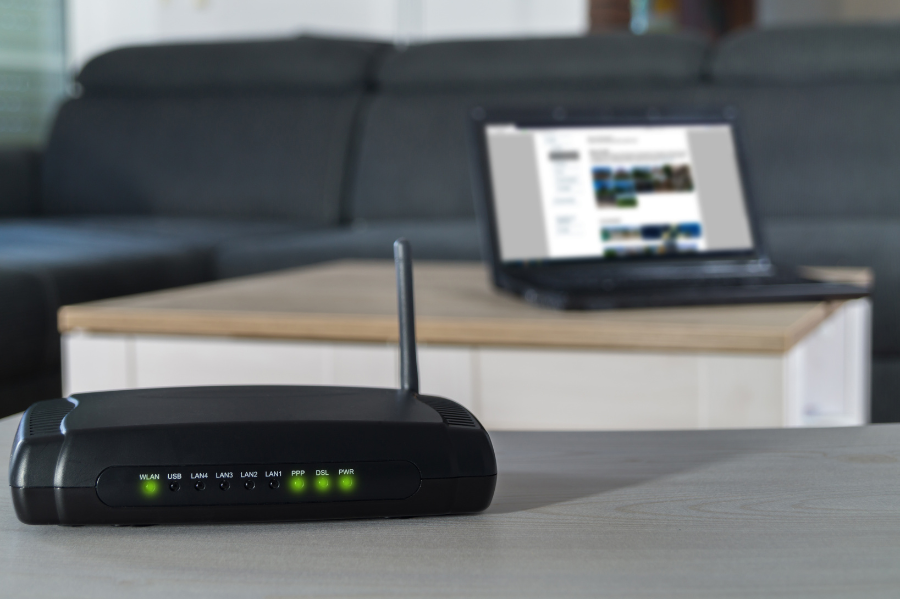 FTTP vs FTTN vs FTTC: Which nbn connection type do you have?
If you're in the market for an nbn™️ internet plan, then you're going to want to be across FTTP, FTTN and FTTC. These terms may sound highly technical, but they're actually just three different ways your home may be connected to the nbn!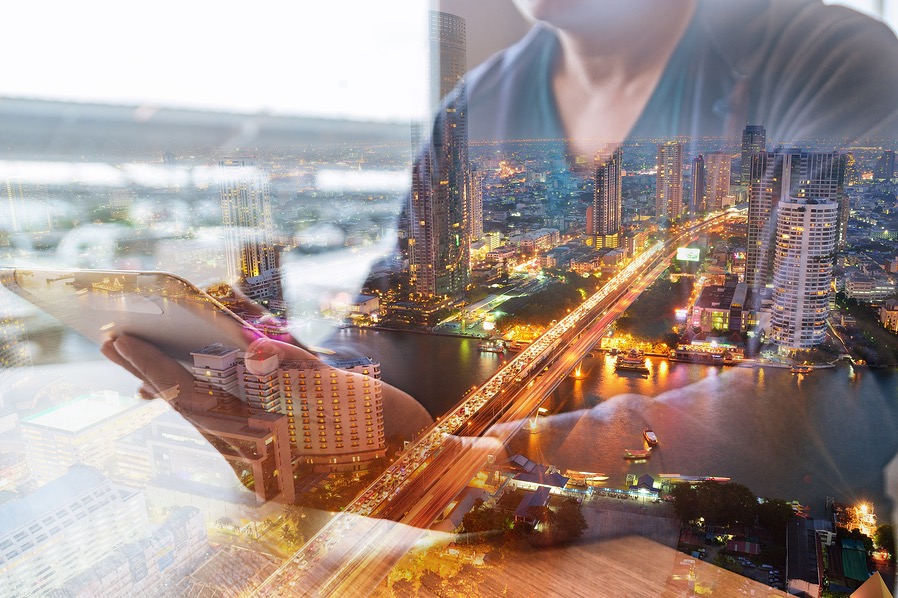 What is a good download speed for nbn internet?
What is a good download speed and what is the right nbn speed tier for you and your home? What are typical evening speeds? How will network congestion affect my nbn speeds? We answer all these questions and more!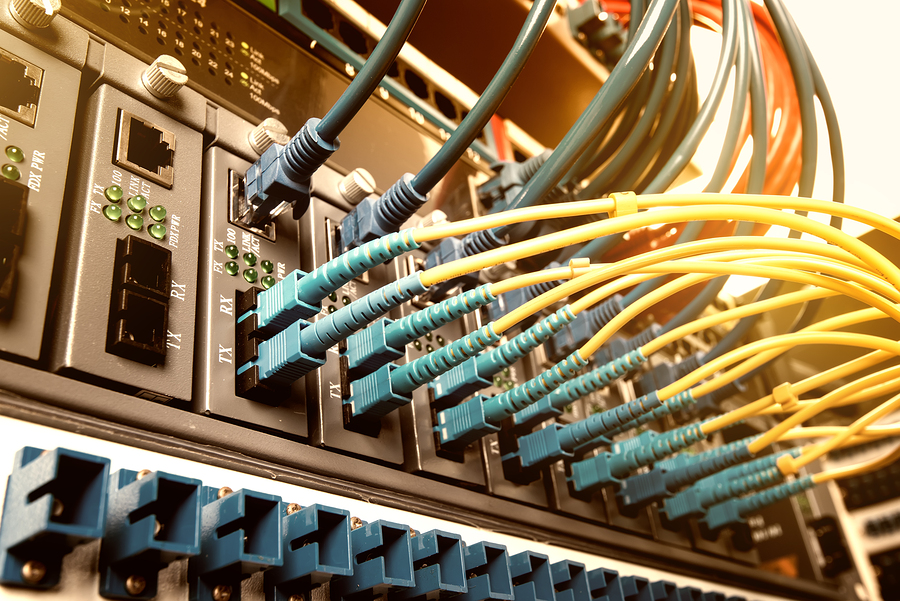 What are the 7 different nbn™ connection types? Learn more!
Do you find the nbn™ rollout confusing? Don't worry, you're not alone. There are a lot of new terms and technology, such as fibre optic cable, to come to grips with. To help you understand more about all of this, let's take a closer look!