How to set up a home theatre in 5 steps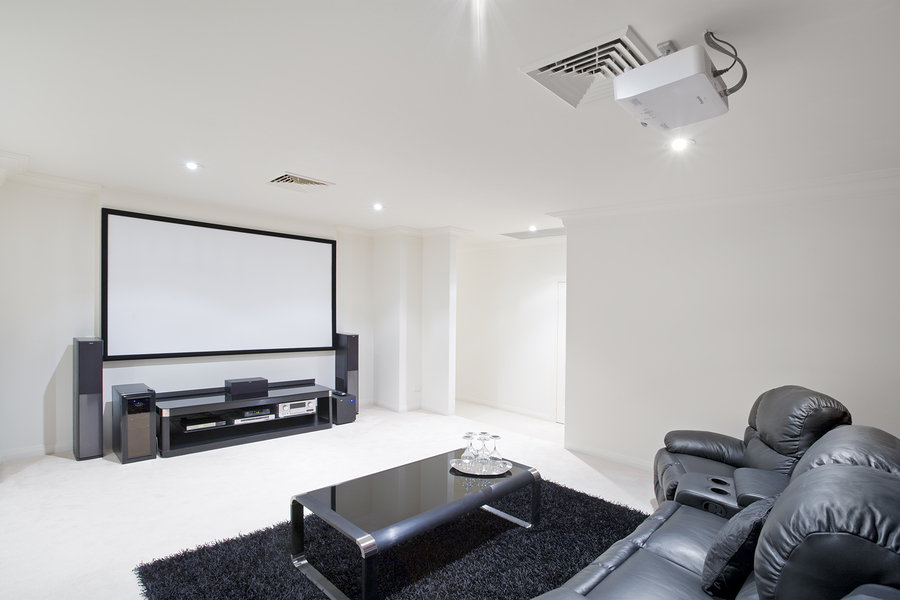 Have you always dreamed of having the ultimate home theatre to impress your friends and family?
Apart from the expense, the thing holding many of us back is the overwhelming task of getting the theatre set up! The good news is that it's not as hard as you think.
Here is a simple 5-step tutorial on how to set up a home theatre.
Step 1 – The room
The first step to setting up your home theatre is finding a place for it.
Home theatres can take up a lot of space, so you will need a large room to create the experience you're after.
A popular place is in the basement or in a hideaway downstairs. These areas are usually pretty big, plus they drown out the excess sound from the rest of the house.
Step 2 – Projector and screen
The second step is setting up the projector.
In most cases, the best thing to do is purchase a projector ceiling mount and run the cabling through the ceiling. If you choose to set up your theatre in the basement and the ceiling hasn't been finished, this will make routing cables extremely easy.
Once you have the projector mounted, next is determining the best projection surface. There are manufacturers that produce specially designed "projector screen paint" to put on the wall. This will help reflect the light and mimic an actual projector screen, which can look pretty cool.
You can also opt for a pre-built projector screen and mount it to the wall. This option will be a little less permanent as you can roll the projector screen up when not in use.
When it comes to projector screens, there are both motorized and non-motorized options available, but motorized projectors tend to have a price premium. In terms of projector sizing, just turn on the projector and see how big of an image it casts on the wall from where you mount it. Purchase a screen accordingly.
Step 3 – Sound
What would a home theatre be without good sound, right?
The next step is to set up your sound system. If you have an unfinished ceiling this will be super easy. If not, then cabling will be a little more challenging.
For an optimal sound experience you will want:
Two large floor speakers set up by the projector screen
Four ceiling speakers – two in the front either side of the screen and 2 in the back behind the seating area
A subwoofer
You will want to route this all through the ceiling or walls back to a central audio/video receiver. This central hub drives power to all of your speakers so it is best not to skimp out on this item.m Brands that provide excellent sound quality include Onkyo, Harmon Kardon, Yamaha, and Pioneer. They range from $150 on the lower end to $1000 for the premium options. All the wiring for the speakers will then go back to this receiver. Instructions for wiring the speakers to the receiver are usually self-explanatory, but the receiver should have instructions included for your reference.
Step 4 – Blu-Ray, Pay TV, and Media Boxes
Now that you have the sound and the projector setup, you need a system to play all of your content.
In the same location as your AV receiver, you'll have a Pay TV box, Blu Ray player, and a media box of some sort. A media box is a dedicated computer that is used to stream videos or music. Any pre-built PC with some sort of dedicated graphics card should work fine.
If you are extremely tech savvy and have a Plex server, you can stream from that to your media box.
All of these video devices should then be connected to the AV receiver that will have HDMI in ports and a single HDMI out cable that you will have to run to the video in on the projector.
A solid internet connection is also crucial, as nobody wants to sit in your home theatre as it buffers or drops out a crucial moment! MATE provides quality connections for affordable prices with no contracts. Check out our nbn™ plans here.
Step 5 – Seating
The fifth step is really up to you. Some people will go all out and buy movie theatre seats along with a staggered platform to create a theatrical feel. While others opt for comfortable chairs or even just a couch.
We find that four lazy boy recliners in a row provide an awesome seating experience. The only con to this setup is that it only seats four people, so you'll have to be picky. If you plan on having people come over for group movie night, you might need a large couch and a few extra chairs to make up the numbers.
Wrap up
A home theatre is your place to enjoy binge-watching Netflix, streaming movies, or watching the footy on the weekend with friends and family. If you can't go all out on the setup the first time, gradually upgrade as your budget will allow.