5 must have smart pet products for your home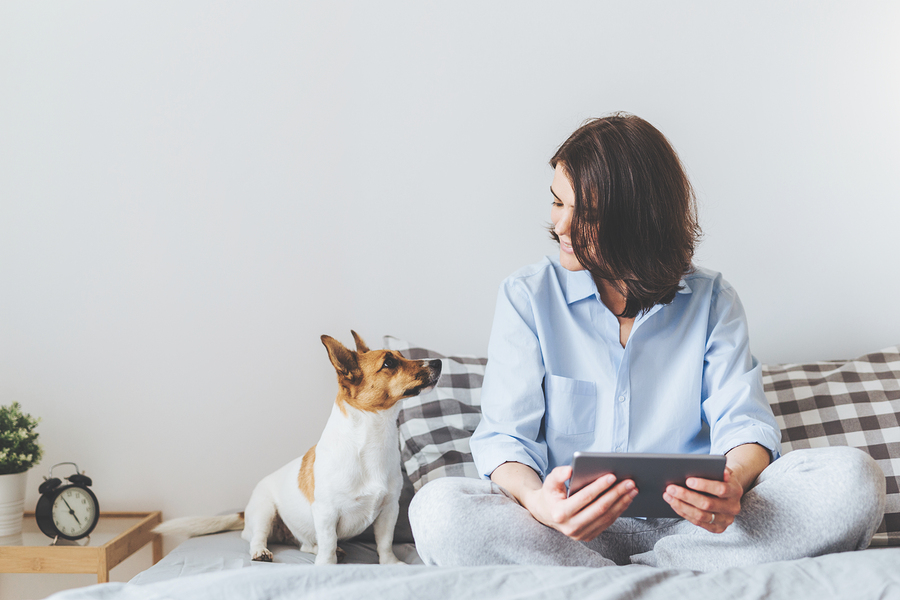 Being a pet owner has become a whole lot easier thanks to advances in technology, notably the onset of whole-house wifi.
Today's "smart" pet products are able to feed and keep watch on your pets when you're away from home, giving you peace of mind that your pets are getting the food and water that they need, and/or not trashing the house!
Are you looking to upgrade the way that you care for your pet? We've put together a list of the coolest, yet most practical wifi-powered pet products that are now available for purchase.
Check them out:
#1. Petcube
The Petcube is cool because it serves a couple of different purposes. First – and most importantly – it's a pet camera that connects to wifi and allows you to peek in on your animals whenever you please.
But what makes the Petcube particularly cool is that it can also double as a pet toy, especially if you have cats. The Petcube has a built-in laser pointer, so you can pop in on your cats while you're away from home, speak with them through the camera and also play with them with the pointer.
It's a great way to stay connected with your pets.
#2. Petzi Treat Cam
Here's another cool pet camera that also offers additional features. This one serves as a treat dispenser, so you can check in on your animals while you're away, speak to them and then toss them a treat if they've been good.
You can even take still photos of your pets from the camera in case you want to share a cute photo on social media.
#3. Furbo Treat-Tossing Camera
The Furbo camera is similar to the Petzi Treat Cam that we covered above, except with additional features. For instance, while both the Furbo and Petzi cameras allow you to see and speak to your animals and deliver them treats, Furbo allows users to set bark alerts, so they'll be notified if their dog is misbehaving or under duress. Other features of the Furbo include night vision and video storage.
#4. PetSafe Smart Feeder
Are you running late getting home from work and need to feed your dog? Are you going away for the night and want to make sure your cat is fed? Or does your animal have a medical condition where they need to eat at regular intervals?
That's one of the big advantages of owning an automatic pet feeder. One of the best ones on the market today is the PetSafe Smart Feeder. The device allows you to store up to 12 meals and dispense them in various cup-sized portions when programmed. What's more is that you can be certain that your pets are being fed as scheduled, as you'll receive notifications on your phone after each meal dispenses.
#5. HDE Automatic Fish Feeder
Dogs and cats aren't the only animals that can benefit from wifi-enabled products. Fish can benefit, too – and so can you.
Gone are the days of dropping one of those big food tablets into the tank when you leave for vacation. Today, there are wifi-enabled feeders, and the HDE Automatic Fish Feeder is among the best.
It's easy to install on a tank and can be programmed and activated from anywhere in the world. Don't worry about forgetting to feed your fish ever again when you have one of these installed on your fish tank.
Treat your pets with some wifi-enabled fun and convenience!