MATE becomes official partner of #FootballForFires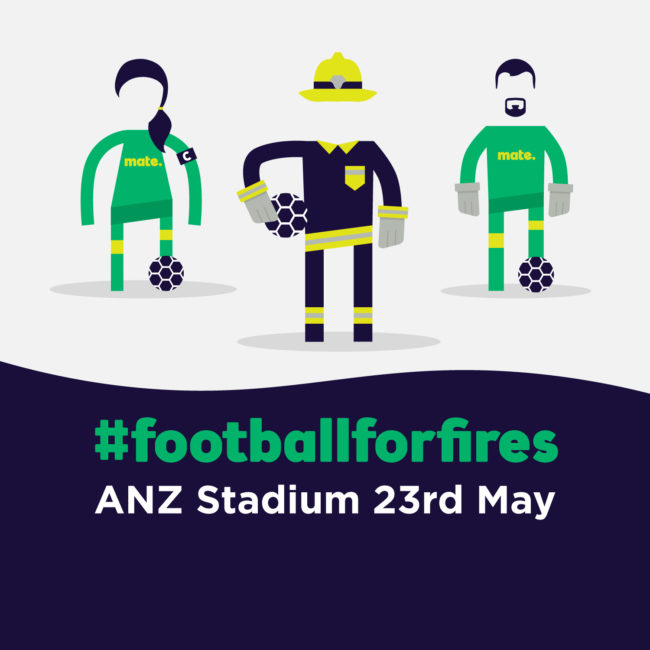 All of us at MATE are truly devasted to see the effect that the recent bushfires have had on our country.
The team here at MATE haven't been directly impacted but our extended family and friends have in some way. We need to do our part to support the people and places impacted by this disaster.
Our business is built around 'MATEship' and there is no better time than right now for us and everyone to show what Aussie MATEship is all about.
As part of our commitment to support the bushfire appeal, we are proud to announce that we are coming on board as a major partner of the #FootballForFires event taking place on Saturday 23 May 2020.
#FootballForFires is an international football match to honour the thousands of brave volunteers who have fought so tirelessly during these bushfires and to support the Australian Red Cross Disaster Relief and Recovery Appeal.
The match will be staged at Sydney's ANZ Stadium and will feature some of the world's highest-profile former players including Didier Drogba, Patrice Evra, Claudio Marchisio, Dwight Yorke and many more.
Lou Sticca,  Tribal Sports Group MD and event organiser, says, "The #FootballForFires match will harness The World Game and its star players to draw attention to the Australian bushfire crisis and the crucial rebuilding of communities that will be required long after the fires have eventually burnt out. The images of these fires and the devastation they have caused to families, properties and our wildlife have touched so many people around the world and the international football family wants to help Australia."
The Sydney match will recognise the efforts of thousands of volunteers from all areas of Australia who have fought so bravely to save homes and property during the bushfire crisis, while also raising much-needed funds for the rebuilding phase.
Many volunteers will be present on the night at this special sporting event, and players are flying in from all corners of the globe to show their support for Australia. It's a rare opportunity for football fans around the country to get up close and personal with stars, while also driving fundraising support for the Australian Red Cross Disaster Relief and Recovery Appeal.
Tickets will go on sale to the Football Family from 12 noon Thursday 30 January and to the General Public from 12 noon Friday 31 January.
Adult tickets start from just $29 and family tickets from $59. More than 40,000 seats will be made available at these affordable prices.
We want to do all we can to make this event as successful as possible and raise as much money as we can to support the people in need.
How you can help?
• Donate to the #FootballForFires appeal
• Purchase a ticket to the game
• Share on your social channels, using the hashtag #FootballForFires
• Buy official #FootballForFires merchandise (coming soon)
Thanks in advance for your help and support.
Regards,
The MATE team