9 Tips for remote work productivity in 2022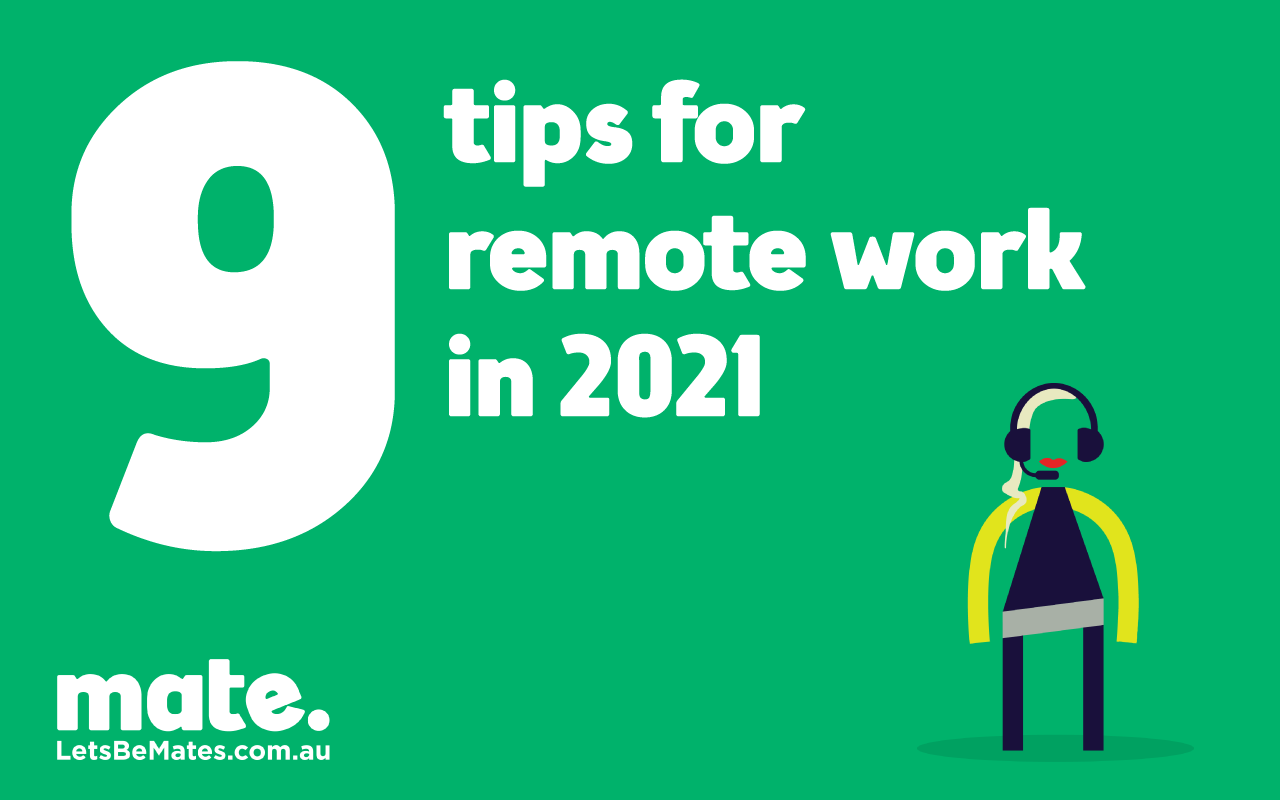 After more than a third of the country were forced to work from home almost overnight, there was a mad scramble for people to get the right equipment to keep them productive for the next few weeks.
When weeks turned into months and now into a new year, working from home is here to stay with many companies already announcing long-term remote work plans.
While many people have rearranged their homes to fit a workspace and retrofitted what they had to make it work for them, it's now time to make sure you have a workspace that is both comfortable and sustainable to work from, at least part-time, for the foreseeable future – probably forever.
At MATE, we know that having the right things in place at home means more productivity, more comfort and better overall well-being. Here are our favourite tips for your workspace.
1. The best internet
Now is the time to consider if you are on the best plan for you and your family's needs. Consider what type of activities you do online, how many connected devices you have and how many people are online at the same time. This is also a great time to check if you have the right network set-up to ensure that you get the best out of your Wi-Fi in every room.
2. A good chair
A good chair is like a good bed. They can be very expensive but can be a lifesaver if you sit all day. The most expensive chair isn't always the best one, you need to work out what works for you and a chair that can adjust to the right height for your desk and body is a must.
3. Lighting
Lighting can make all the difference to your energy, mood and even your zoom calls. Simply opening the blinds or replacing the bulb in your lamp with a daylight colour balanced bulb can give you a real boost of energy and the increased light in the room helps your webcam quality immensely.
4. Move
Simply getting up every 45 minutes and walking around the room keeps the blood flowing through your body and resets your mind. Better yet, there are numerous stretches that can be done in your seat or standing next to your desk that can help undo the tightness of sitting.
5. Water
The most underrated trick to a better workday (or any day) is staying hydrated. With more than 60% of our body being made up of water, as little as 2% decrease in hydration can affect cognition – this is where fatigue appears, mood is altered, and several cognitive functions might be impaired, such as memory and attention.
6. Stay connected
It's easy to disconnect from co-workers when you aren't in an office setting and run into colleagues in the kitchen or waiting at the printer. It's important when working from home that you have regular check-ins with your team, manager, and workmates to stay connected and keep abreast of what everyone is working on. There are a million different tools out there if your workplace doesn't already use them.
7. Stand up
Stand-up desks were already becoming a workplace standard but with remote work, there is now greater demand than ever for standing desks in the home. If you can't justify the outlay, there are definitely more affordable options as well as thousands of 'IKEA hacks' from genius wannabe designers. As an alternative, start small and stand up when you take a phone call or set a timer to stand up every hour for 10 minutes and complete a task you don't need to be seated for.
8. The right mobile plan
Now that the desk phone is gone, it's time to make sure you have the right mobile plan for your needs. MATE's range of mobile plans have some of the best data inclusions, unlimited calls and SMS to 15 countries on most plans, and 500GB data bank to save your unused data.
9. Noise-cancelling headphones
You probably aren't the only one at home so this is the best way to get some peace and quiet. A quality pair of headphones require an upfront investment but are worth their weight in gold. Keep a lookout for sales or use your frequent flyer points to snag a deal. We recommend the Bose Noise Cancelling Headphones 700, or Sony's tongue-twisting WH-1000XM4.
Small improvements can make a big impact on your home office space and are a worthwhile investment in productivity and ergonomics. The money you save in commuting and trips to the chiropractor will add up and quickly offset these expenses that are often, at least in part, tax-deductible.