What is portable Wi-Fi and should you get it?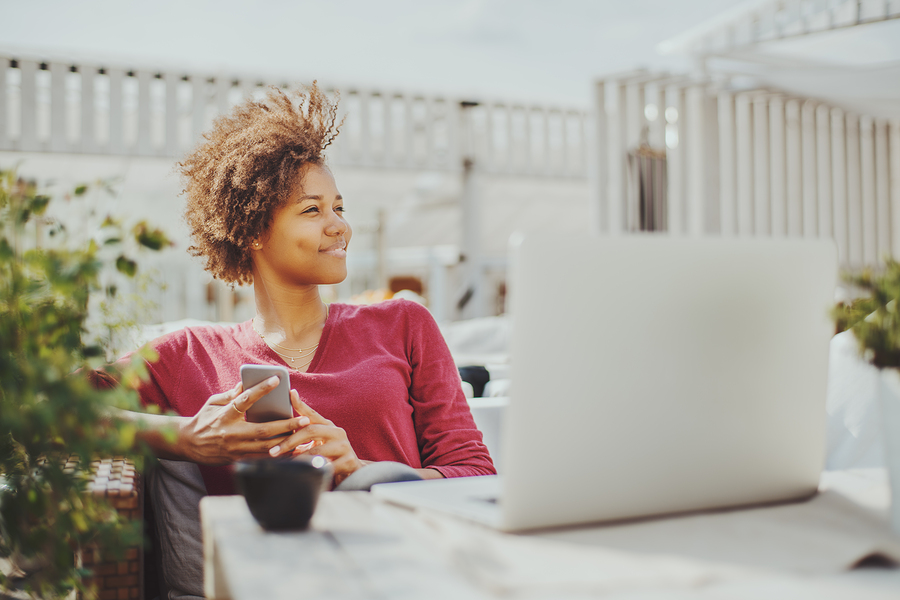 Updated on 27 August 2021
MATE does not provide portable Wi-Fi services, however you can check out our home nbn internet plans and SIM-only 4G and 5G mobile plans here!
We are all spoiled with having the internet in our lives, every day. The moment your Wi-Fi fails to connect is usually the moment we need it the most.
With a portable Wi-Fi router modem, otherwise known as mobile broadband or a WiFi dongle or modem, an affordable internet connection is in the palm of our hands whenever you need it. Here, we guide you through the best broadband Pocket WiFi broadband plans to make sure you choose the right USB modem device at the best possible price.
What is portable WiFi?
Picture a home internet router or modem (like a WiFi modem), but smaller and using a SIM card rather than a cable and a mobile data plan rather than a broadband plans. This is pretty much what a portable Wi-Fi router modem or mobile broadband is – you might know it as a WiFi dongle!
For anyone who travels, or did travel before COVID-19, privacy is important. A portable Wi-Fi router modem or WiFi dongle with a mobile broadband plan allows for a private connection with your data plans from anywhere in the world using just the single SIM. Multiple devices can connect with the same ease as at home but with the extra convenience of roaming on your broadband plans – hence the name mobile broadband!
Advantages of portable WiFi or mobile broadband
A palm-sized router modem is easy to use and has one SIM. If the mobile broadband device has a full charge and good battery life, all there is left to do is put in the SIM card and the internet is at your fingertips, provided you have the right data plans.

Reliability is important, especially if travelling for business. Wherever there is an internet network; the portable Wi-Fi modem will mimic the speed, depending on your data plans. Keep in mind that not everywhere will support 4G network or 5G network connections. The mobile broadband speed will rely on the nearest network and will also depend whether the modem device has dual band Wi-Fi.

Mobile broadband cost varies depending on your needs and data plans. The bells and whistles, such as data sharing on your pocket WiFi plan, will cost more than only buying the portable wifi router modem itself.

Internet speeds are a principal feature for most users on their pocket WiFi data plans. Portable Wi-Fi routers currently on the market come with 3G, 4G or 5G speeds over mobile broadband.

The most significant advantage of portable Wi-Fi modem or mobile broadband plan is the freedom to check emails, update Facebook, or even surf the net regardless of where you are, provided your wifi dongle or pocket WiFi has good battery life!
What about dual band WiFi and data plans?
A pocket wifi with dual band WiFi will generate two Wi-Fi networks – a 2.4GHz WiFi network and a 5GHz WiFi network. A 4G USB modem or pocket WiFi with dual-band Wi-Fi is definitely preferable over a single band device due to the flexibility these devices will give you on your data plan.
These two Wi-Fi networks on the pocket wifi modem devices will both provide access to your 4G mobile network, for example, but there's advantages and disadvantages for both networks.
Below is a short explanation of the difference between the two Wi-Fi networks on the modem.
2.4GHz WiFi Advantages
Compatible with most devices including older devices (such as desktop computers)
Stronger signal over a longer range/distance
2.4GHz WiFi Disadvantages
Much slower than the 5GHz network
More interference as cordless handsets and other portable devices usually use the 2.4GHz frequency which can affect speeds
Terrible in apartments or large unit blocks as interference is usually very high
5GHz WiFi Advantages
Much faster than the 2.4GHz network
Generally less interference from other devices than the 2.4GHz network
5GHz WiFi Disadvantages
Shorter range/distance of signal than the 2.4GHz network
Some older devices (such as desktop computers) will not pick up the 5GHz network
You'll also need to consider what broadband plans you need when it comes to your data plan for the pocket wifi device. How much data you need and what mobile network you wish to use, such as Telstra, Optus or Vodafone, and then if you want extra features like data sharing, will play a big part in the sort of deals you can find for the plan.
If you're using the data plan for more than one person, then you'll need plenty of data allowance and if you can find a plan with data sharing, this will let you share your data with other devices – you could even use data sharing with a second pocket wifi device. It pays to shop around for the best home wireless broadband plans deals with the best data allowance so you can find not only the best 4G USB modem, but also the best deals for your buck and ensure you don't pay for any excess data charges.
What makes a portable wifi router a must have?
The need for the internet has become nearly as essential as electricity. You don't have to travel the world to find a need for a portable wifi hotspot or mobile broadband. Students and digital nomads alike have daily internet needs and mobile broadband data plans will help them stay connected.
Whether for work or pleasure, the ability to access the internet regardless of your location is not just a luxury. Customisation allows users to find portable, affordable, and reliable internet when and where they need it with mobile broadband and just one WiFi modem.
Free publicly offered wifi is not safe. With portable and private internet, like one mobile broadband, there are no worries of strangers hacking and stealing identities and data. Surfing the net from school or the local coffee shop is safer from one of these mobile broadband devices.
Another great thing about portable wifi routers is that the one battery capacity usually lasts a really long time. So you're unlikely to run out at the wrong time.
Today's world runs at a rapid rate, and internet access is an essential part of that lifestyle. This makes portable wifi a great companion!