The ultimate home office checklist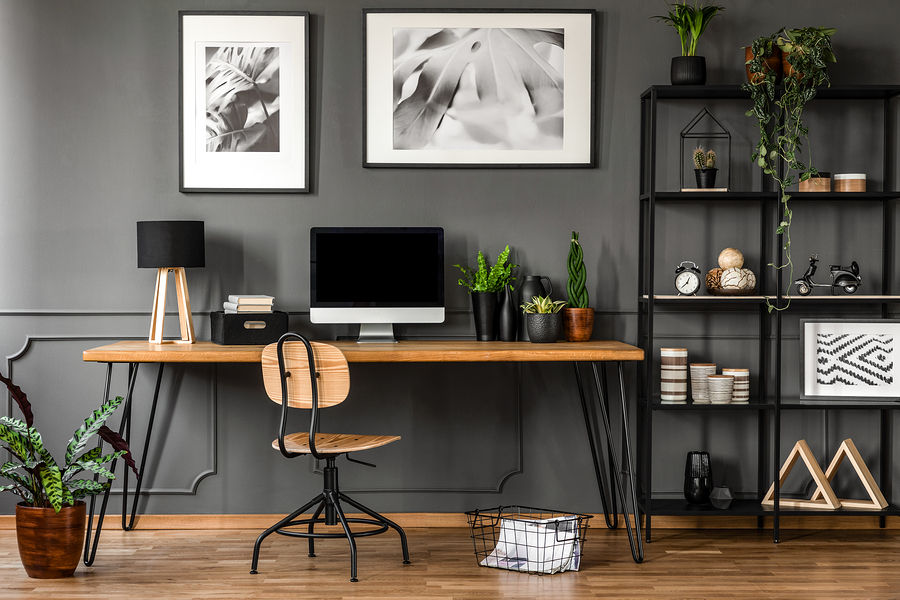 Up until recently, It was a corporate perk that was growing in popularity by the day: the freedom to ditch the office and work from home. Over the past few months, due to the COVID-19 Pandemic, this has become a necessity as opposed to a perk!
Maybe your company lets you work from home a couple of days a week, or perhaps you work from home full time. Or your home office supports a side hustle or income-producing hobby.
Whatever the case, for you, a home office is a necessity. And if you're going to spend nearly half your waking hours in that office, you want it to be nice.
Whether you're setting up a home office for the first time or you're looking to improve your space, this home office checklist will get you going in the right direction. Here are 5 things to consider.
1. Appropriate Space
You're finally free from the constraints of your cubicle! You might spend a few days working from your couch still wearing your pyjamas. But before long you're going to want an appropriate, dedicated space to do your work. Having a dedicated, quiet space is even more important if you have roommates or children.
Designate a spare bedroom (or at least a quiet nook or corner) as your office space. How much space you'll need depends on your line of work. At a minimum, you need room for a desk and chair.
Give yourself as much breathing room as your living situation allows. If you video chat with clients or coworkers, choose a space with an appropriate background/wall.
2. Ergonomic Furniture
Even if you already have a computer desk and chair at home, ask yourself whether it's comfortable or supportive enough to sit in for 8 hours a day. If you're switching to full-time at-home work, it's time to invest in a quality desk and an ergonomic chair. Your company may cover some or all of your home office furniture costs, so be sure to ask.
3. Energising Décor
You've done the soul-less gray corporate cubicle thing at work, so, create a home office that draws you in aesthetically. Buy some interesting lamps. Pick up some wall art that you really enjoy. Go high-brow with framed prints of famous works, or go low with interesting pop-culture pieces.
Colour can make a big difference, too. Don't settle for white walls. Gentle blue hues will simultaneously soothe and increase productivity, according to colour psychologist Angela Wright. And a splash of yellow can promote creativity. Choose colours that help you reach your goals.
4. Adequate Storage
There is nothing worse than a disorganised, messy office space. Storage doesn't magically make people organised of course, but not having adequate storage does make people messier.
You need a logical place to stash printouts, records, receipts, and whatever else your job or business generates. Without a place to store these things, they tend to pile up and crowd your desk.
There are near endless options for storage: filing cabinets, cubby or cube systems, shelves with trays and baskets, and more. Buy an option that meets the needs of your home office. Bonus points if you colour coordinate with all that energising décor described above.
5. Sufficient Tech
You'll want to be sure that you have all the technology you need. This includes both equipment and service.
No doubt you'll need a computer, of course. But think about all the other tech you left behind when you left your cubicle. There, you had a phone, headset, printer/copier, and maybe more. Think through which of these you'll need at home. If your company doesn't provide them, it's time to buy.
If your home office is supporting a side gig or entrepreneurial endeavour, your tech equipment needs will be different. Maybe you need a separate smartphone or tablet in addition to or in place of traditional office tech. Whatever technology you need to support your work, be sure to budget both money and space for it.
Your internet-based business is only as good as your internet service is reliable. That's where MATE can help. Our nbn™ internet plans are contract-free and include unlimited data. And our all-Aussie based support means you can rest easy knowing that any issues will be handled right here in the country. If you need a landline phone for your home office, we can bundle that in, too.
Whatever the reason for your home office, you want it to be top-notch. Follow this checklist to make it the best it can be.